The kitchen is the one room in your house that likely gets the most use, and it's important to feel comfortable in there, whether you're cooking, cleaning, or having a cup of coffee in the morning. At Hermitage in Nashville, we can help you create the kitchen you've always wanted, and with our design and remodeling services, you can find the lights, the appliances, and the finishing touches you need. Contact us today to get started!
Why Do you Want to Remodel?
Before beginning any remodeling project, it's important to think about why you want to do it. Do you need more space because your family is growing? Did you move into an older house and you want to update it so it feels more modern? Whatever the case may be, it's important to know why you want to renovate so that you can feel confident heading into the planning phase.

The Planning Phase
Many homeowners feel overwhelmed as they start their kitchen remodel, but with our team of expert designers, you'll feel confident that your project is in capable hands. We will gladly sit down and discuss your ideas, and help you decide what style and design you want to go with. We'll also discuss budget, since that's often the one thing that stands behind a homeowner and his or her dream kitchen. It's good to set expectations and goals so that you know how long the project will take and what you want the finished room to look like. It's also important to be flexible and understand that your vision might change during the process.
Getting Started on Your Remodel
Before any work can begin, our team will come to your home and take measurements. We need to know the space we're working with before we can help you choose lighting, appliances, and more. Once we have the measurements, we'll create a custom plan with drawings, designs, and details for your project, as well as an estimated budget. You'll be given the opportunity to provide feedback and input, and once approved, we'll have our installation team get started right away!
Installing Your New Kitchen
Once they start, our team of installation experts will do everything they can to stay on schedule with your remodeling project. They always pay attention to every detail, and work hard so that your new kitchen looks exactly as you envisioned it. If issues arise, they'll always come to you first so that you know what's going on, and they can provide recommendations based on your feedback. There's always a solution that can be found, and our team will work tirelessly to ensure that your project comes to completion on time and on budget.
If you're interested in redesigning and renovating your kitchen, contact Hermitage in Nashville today. Our design team is always excited to meet new people and discover the ideas that will transform your kitchen into a beautiful new space.
Take a look at our Kitchen Design Gallery today, and if you're ready to get started, give us a call at 833-500-3111. We look forward to helping you!
Designing Your New Kitchen
Your home is your castle, and it's where you retreat to relax and unwind at the end of a long day. While some may spend a lot of time in the family room, reading or watching TV, or they may take a long soak in the bathtub in the evening, others enjoy spending time in the kitchen. You may love to cook or bake, or you may be the one family member who's always entertaining friends and relatives.
If your kitchen could use an upgrade, or you've been thinking about a new design for the room, Hermitage is here to help. With our help, you can finally have the kitchen you've always wanted, and whether you're cooking dinner for the family or you're baking cookies for a holiday party, you'll love every minute spent in the space!
Choosing Your Style
Every homeowner has his or her own style, and it's important to know what yours is before beginning a kitchen remodel. Do you prefer lots of decoration, or would you rather have minimal lines and angles? What are your favorite colors, and how can you incorporate them into the redesign? Knowing these things about yourself can inform the style that you want for your new kitchen. If you see something in a home catalog or on the internet, and you want to include it in your remodel, our design team will add it to the plan and make sure that it fits perfectly. It might be the tiniest detail, but it could end up adding the perfect finishing touch.
Surface Area
Every kitchen needs the proper amount of surface area, and if your current setup is lacking in countertop space, we can make sure that your new one has ample space to prep, cook, and clean. When picking out your counters and cabinets, keep in mind how they will look and function within the space, and how they will affect the flow of the room.
The Workflow Triangle
You may have heard of the kitchen workflow triangle before, but if you haven't, there's no need to worry. Our design team will gladly explain it to you and show you how it can benefit your new space. Basically, the workflow triangle exists between your stove or oven, the sink, and the refrigerator. You're taking food out of the fridge to prep and cook on the stove or in the oven, and then the dirty pots and pans have to be put in the sink or dishwasher (which is often next to the sink). The leftovers are often put in containers when you're at the sink, and those containers are then put into the refrigerator. By setting up your new kitchen along this triangular formation, you can remain efficient whether you're prepping, cooking, or cleaning.
The workflow triangle can also determine how your new kitchen is designed and laid out during the planning phase. If the current space has the fridge and the sink on the same wall, you can think about moving one of them to a better spot. If you're going to add a kitchen island to the room, the triangle can inform you on where it should be placed and how long and wide it should be.
There are many aspects that go into a new kitchen design, and the team at Hermitage is here to help you every step of the way. If you're ready to get started, contact us today!
Choosing Your New Kitchen Lighting
We know how important your kitchen is to you, and we also know how frustrating it can be when a light goes out or there doesn't seem to be enough illumination above your sink or counter space. The lighting in the room is imperative to how the space functions, and whether you're making lunch or washing dishes, you need the right fixtures. At Hermitage, we have an amazing selection of kitchen lighting to choose from, and we'll make sure that the perfect options are included in your remodeling project.
Ambient Lighting
The ambient, or general, lighting in your kitchen can come from a single overhead fixture, or one overhead fixture and multiple recessed lights. Depending on the size and configuration of the room, you'll want to make sure that there's enough light for the entire kitchen, since you want it to be a bright and inviting space. A single light may not suffice, and adding a few recessed fixtures can greatly improve the ambient lighting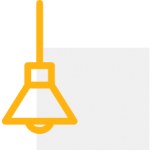 Accent and Task Lighting
Accent lighting is perhaps not as important in a kitchen, but that doesn't mean that there isn't a place for it. If you have decor on the walls, or the room has a high ceiling with a ledge running around the perimeter, consider adding some track lighting or uplights to illuminate those spots. The ambient lighting is taking care of the general illumination, and the accent lighting is there to highlight those special features.
For task lighting, it's a good idea to add under cabinet lights so that you can see while you're chopping vegetables or mixing up a batch of cookies. You'll also want to add a recessed light above the sink so that you can see while you're washing dishes. Pendant fixtures above the kitchen island can act as both accent and task lighting, and they can be a key component of any new kitchen.
Lighting Controls
One feature that many homeowners want to add to their new kitchen is better lighting control. Right now, one switch may control every fixture, but you want precise command of each area of the room. If you're adding a breakfast nook with a hanging light above the table, you'll want a switch for that. You'll also want to be able to turn the kitchen island lighting on and off without the overhead fixture turning on and off as well. It can also be good to add dimming controls for your recessed lighting so that you can set the levels where you want when you're trying to set the mood for a holiday party.
There's a lot that goes into new kitchen lighting, and at Hermitage, we know how to help you find the best options for your project. If you're thinking about new fixtures for your remodel, visit our showroom today or schedule a consultation with our expert design team.
We look forward to helping you!
New Kitchen Appliances
A kitchen isn't a kitchen without the right appliances, and one of the main purposes of any remodel is to replace old appliances with new models. Once you have the cabinets, countertops, and lights picked out, you can envision the beautiful new refrigerator and oven in the space. You may be thinking about a conventional oven for your home, or you may want a wall unit that offers both standard and convection settings. Whatever the case may be, the kitchen design team at Hermitage can help!
Form and Function
You use your kitchen appliances nearly every single day, and it's important for them to be both functional and appealing. Their style and shape can go a long in way in creating the room's look and feel, and you want them to work well for years to come. If you're a fan of stainless steel appliances, we'll make sure that they're included in your design plan. If you prefer the sleek look of polished black or white, we'll help you find the perfect choices for your new kitchen.
Modern Options
While the oven and the refrigerator are the two main appliances that every kitchen needs, it doesn't mean they are the only ones in the room. If you've always wanted a microwave wall unit or refrigerated drawers in your kitchen island, we'll integrate those ideas into your plan. If you need a dedicated spot for your coffee maker or your electric mixer, we'll make sure that there's counter space and an outlet for your small appliances.
Power Sources
Speaking of outlets, power sources are always an important part of a kitchen upgrade. If your current space only has one or two outlets, it's a good idea to add more, especially since you're going to be using the kitchen a lot more after it's remodeled. If you have to unplug the toaster to plug in the microwave, it can be smart to add more dedicated outlets underneath the cabinets.
For your stove and oven, you may want to switch from electricity to gas. If that's the case, be sure to let our design team know so that they can calculate the cost for installing a dedicated gas line and finding the perfect appliance for your new cooking solution. We want you to be able to cook and plug things in without worrying about a thing!
If you've been dreaming about new kitchen appliances and how they will look in your remodeled space, contact Hermitage in Nashville to get started on your project. We love working with homeowners, and we look forward to seeing and hearing your ideas for your home!
---
Remodeling your kitchen doesn't have to be overwhelming, and with the help of our expert design team, you can finally have the dream kitchen you've always wanted. Whether you've just moved into a house, or you've lived there for years and are ready for an upgrade, Hermitage is here to help.
Contact us today at 833-500-3111 or fill out the form below. A member of our team will be able to answer all of your questions, and if you'd like to meet with someone in person, our showroom is open Monday through Friday from 8:00am to 5:00pm, and on Saturday from 9:00am to 5:00pm.
We look forward to helping you design and create the perfect kitchen!